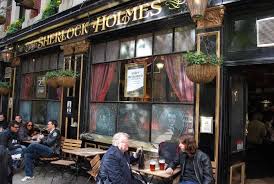 Popular London Theme Tours
Popular London Theme Tours
London is full of a lot of sights and many opportunities to get to know this city. Many tourists take part in a themed tour in order to learn more about something that interests them. These are some of the most popular theme tours in London.
Harry Potter Walking Tour for Muggles
Even muggles can get in on some Harry Potter fun with this 2.5 hour walking tour. Participants can see landmarks that include the Leaky Cauldron, Diagon Alley as well as Platform 9 �?�¾. While walking from one destination to the next there will be some Harry Potter trivia as well as insider knowledge about each landmark.This is a great way to experience some of the magic in some of the Harry Potter Books that has never been felt before.
Jack the Ripper & Sherlock Holmes Tour
Some of the darkest tales in London has to do with Jack The Ripper. This tour allows participants take part in some of the area's disturbing past and learn about the gruesome murders that took place here. The tour starts by boarding a double decker bus and visiting some of the places where beheadings and public hangings took place. At the end of the tour participants will also get to visit the Sherlock Holmes Pub and see some of his memorabilia and enjoy a good British meal.
London Rock Music Tour
A lot of great music artists have come out of London including the Beatles and Pink Floyd. Participants of the London Rock Music Tour can choose either a morning, afternoon or even a full day tour. They can see some of the top music landmarks in the area including Abbey Road and Tin Pan Alley. Only a maximum of 16 participants are allowed on this tour which allows for plenty of opportunity for everyone to be able to ask questions and get a personalized experience.
London Dungeon Tour
The London Dungeon is one of the most thrilling attractions in this city. This experience will certainly hit all of the senses as it's very interactive and features some rather gruesome scenes reenacted to depict some of the most notorious killers in London. There's even the opportunity to take part in a terrifying experience in a gallow. Other experiences include a depictions of the Great Fire in 1666 and the Great Plague. At the end of the tour, participants can try to catch their breath by having a drink at the Victorian Pub.